Skelhøjgård, Odby, Thyholm. Anders Gade
Skelhojgaard - a farm in the Gade family for 100 years
My grandfather Kristen Gade bought the farm on Oct. 3, 1902.

The photograph is from about 1910
The farmhouse was built in 1873; the outbuildings earlier. Four buildings forming a square around the farmyard became typical in this area in the 19th century and indeed is found in almost all farms in Odby. The windmill on the roof of the barn provided power until electricity was introduced in ab. 1906.
The farm and the village of Odby are about 3 km north of the Oddesund Bridge. Odby is the southernmost village in the province of Thy.

The fields radiate from the village like spokes in a wheel - those of Skelhojgaard toward the north
Thyholm is north of the Limfjord, and thus not on the continent of Europe. Like Britain, we are most definately not continental!
| | | |
| --- | --- | --- |
| | Martin Gade (my father) took over the farm in the spring of 1933 at the tender age of 19 | Photographed by Tutte Gade - probably in 1937 |
Martin married Tutte (b. Riis) in 1938, and they raised five children: Christen 1939, Grethe 1941, Per 1944, Anders 1946, and Ruth 1955.
| | |
| --- | --- |
| 1947 | The two "stiff" wagons in the farmyard are fitted with scaffolds used only for hey and grain harvest, so it is probably August. The garden in front of the farmhouse is strictly lawn and flowers, and the vegetable garden is in the upper left of the picture. |
| Ca. 1950 | When the road through Odby (today Vesterfjordsvej) was given a blacktop |
A new cowhouse was built in 1960, and in 1961 Odby Lake was reclaimed, increasing the acreage considerably with valuable land rich in silt. The farm had - as was common then - both a dairy herd and hogs, and a farmhand helped outside and a maid inside until the mid sixties. A combiner for harvest was purchased in 1964.
Odby Lake. Last harvest with the binder, 1968 (neighbor)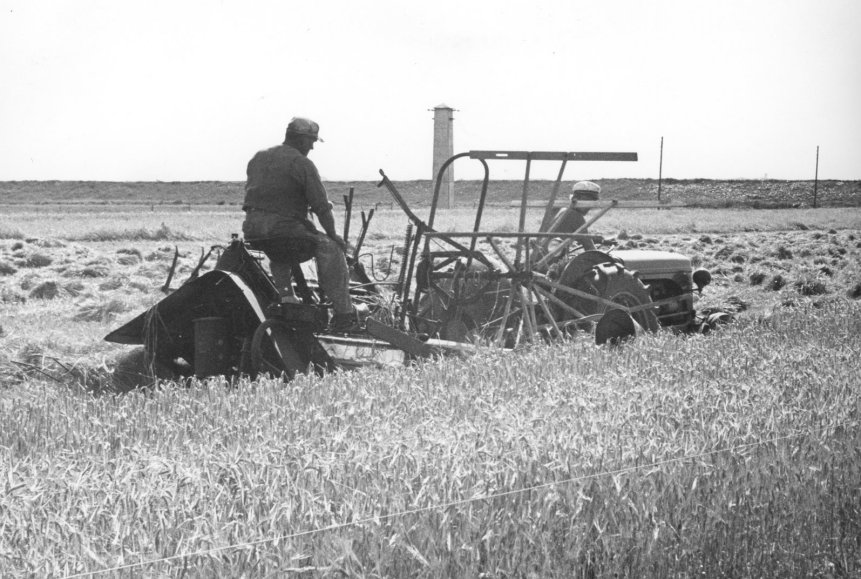 1968

1969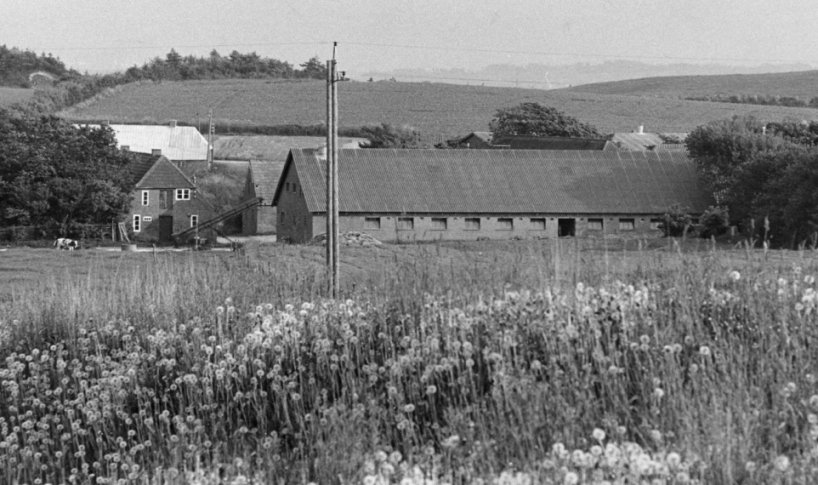 1970 - when streetlights were introduced


1972. By this time the farmer still spent the entire early summer thinning and weeding the beets!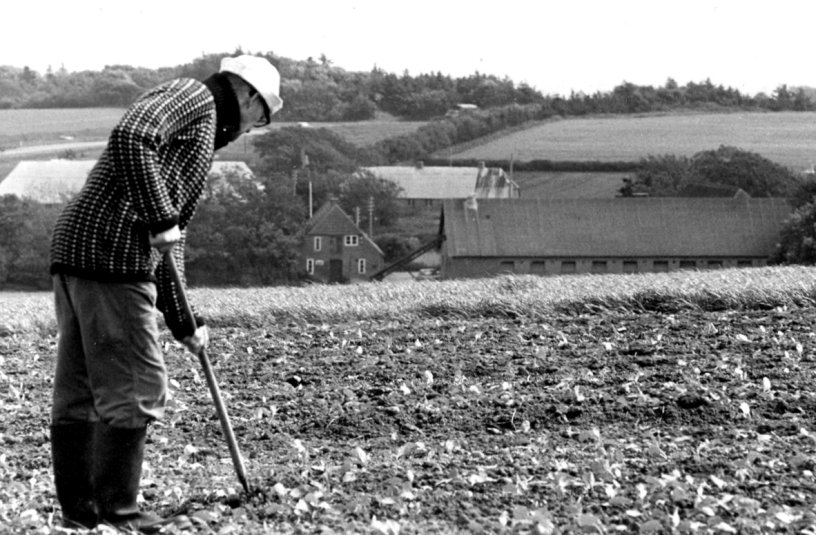 Among the glories of the farm - in addition to Odby pond, the middle section of Odby Lake and the corresponding part of the coastline to the west - is a tiny wood planted around 1910 by my grandfather on the eastern side of the peninsula towards Odby Bay.

Martin Gade in the wood, Dec. 1968

My brother Christen and his wife Gudrun took ownership of the farm in 1972, but remained living on their own farm in Hellerød. Martin leased until 1982 when milk production ceased - he was, however, allowed to keep a couple of his beloved cows for a few more years. Hogs remained on the farm until the late nineties - now the only animals are a few wild cats.
Odby pond was cleared of growth in the winter of 1996/97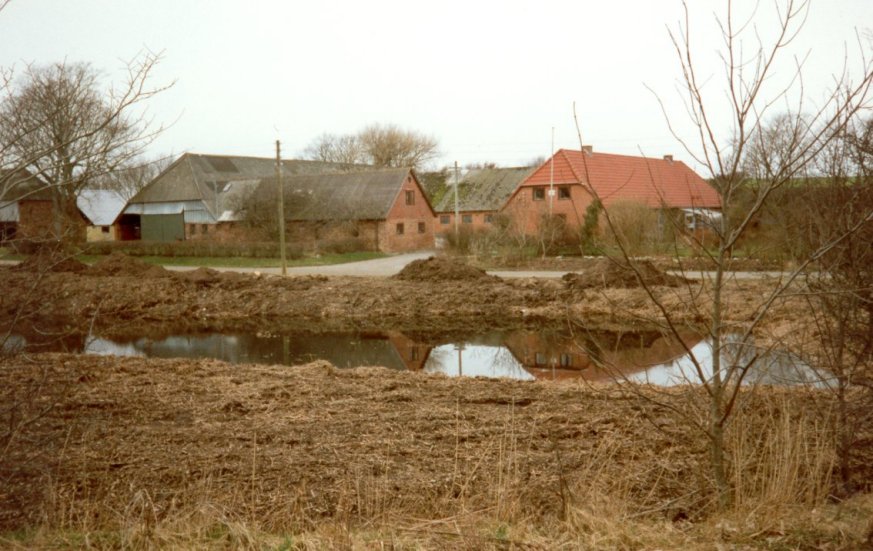 1999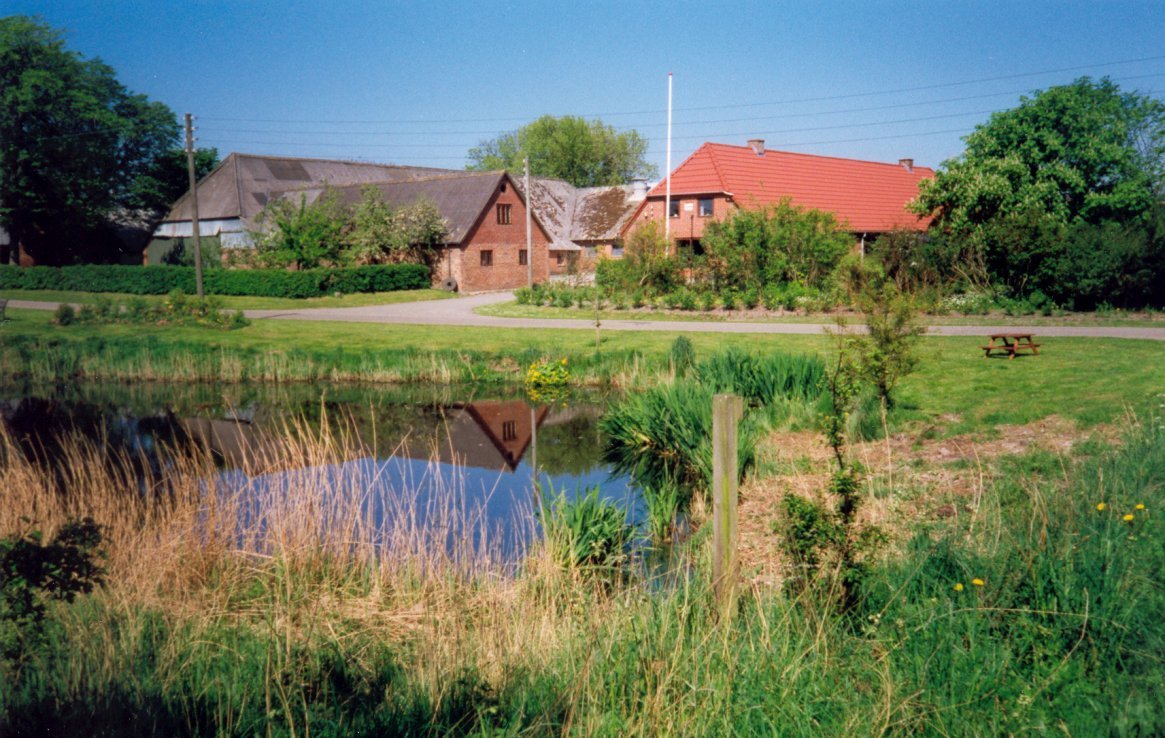 2003 - and the pond has again become the center of village life during the summer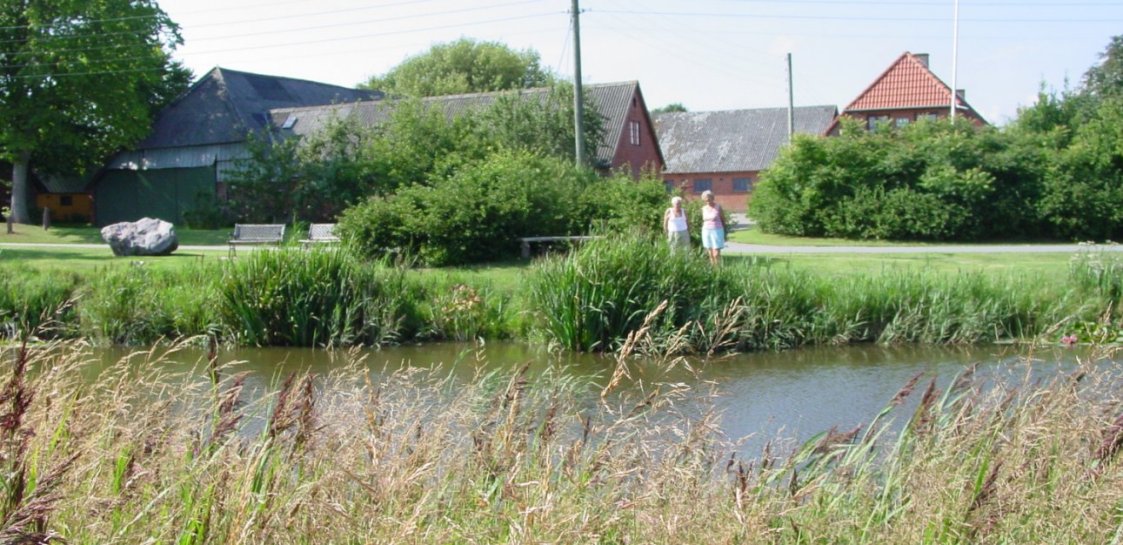 1st og 2nd generation: Martin Gade photographed in May 2003 between his parents, Mette og Kristen Gade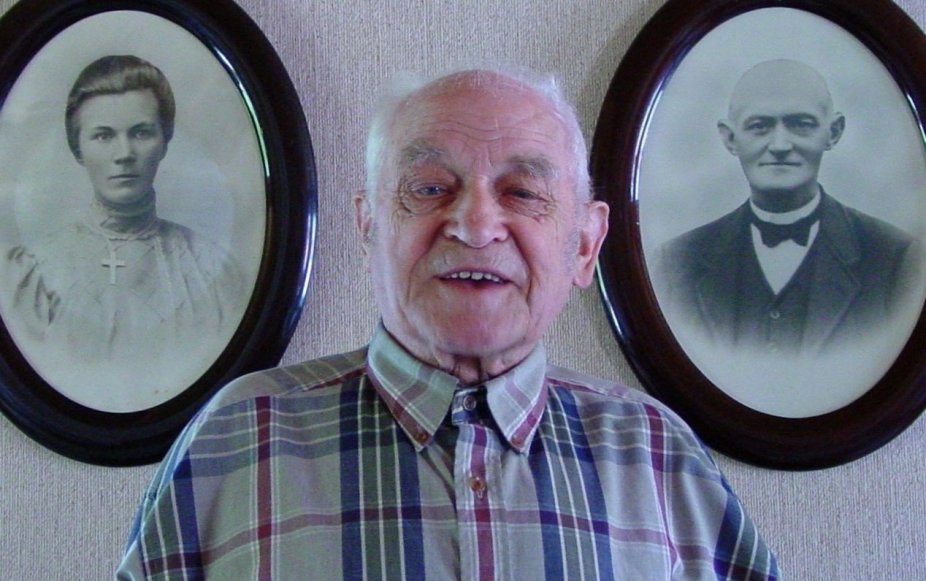 3rd generation: Christen Gade (2003)
| | | |
| --- | --- | --- |
| | | In the Fall of 2003 Skelhojgaard has been taken over by the 4th generation, another Martin Gade, this one the director of Holstebro Music School rather than a farmer. The land has been leased, and the farmhouse is being renovated, creating two apartments: Martin Gade senior og Tutte in the north end; Martin Gade junior, Tina Kandborg Gade and the 5th generation (Karl, Ebbe og Niels) in the rest |

5th generation

Ebbe and Karl
Odby neighbors photographed in May 2003 - on the occasion of my parents' 65th wedding anniversary (crown diamond anniversary, it is called!)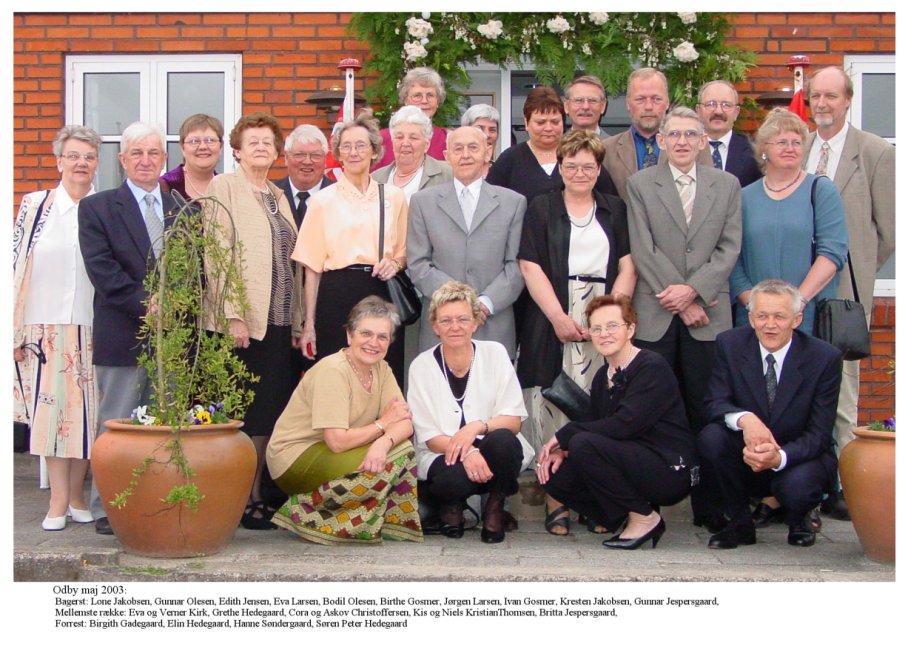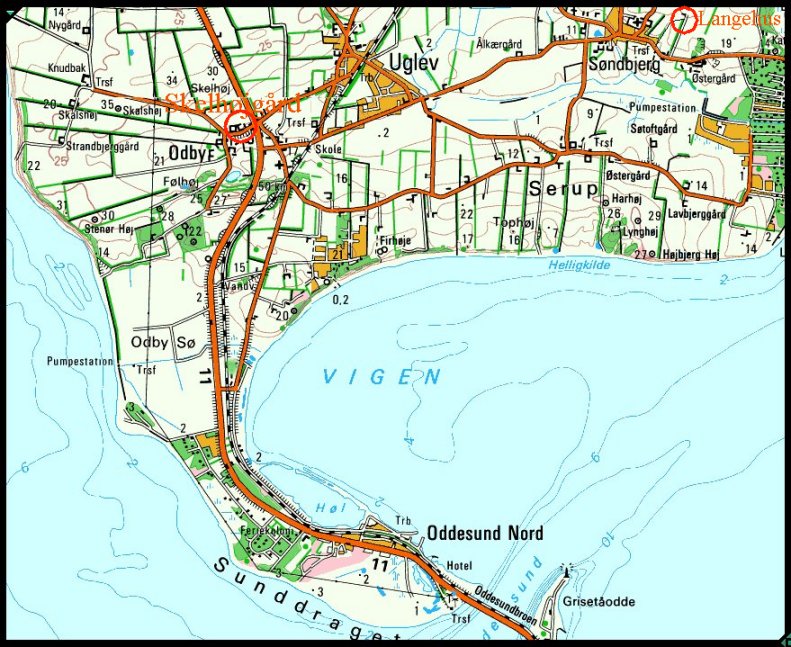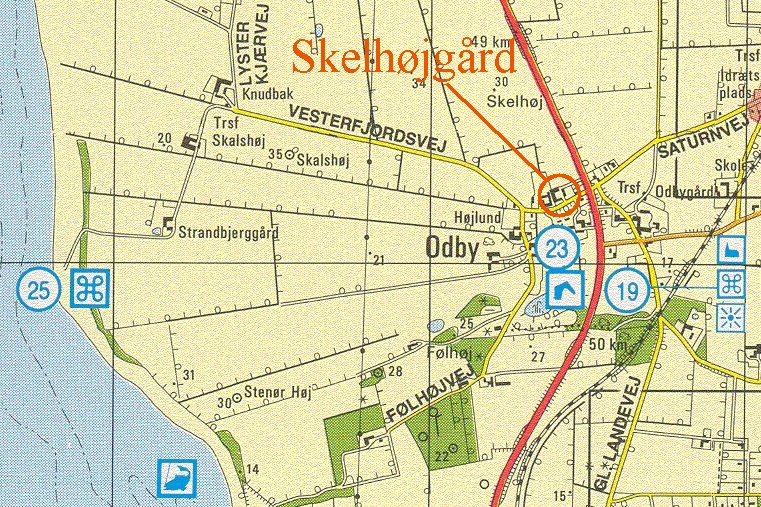 Detailed map over the entire southern part of Thyholm (jpg - 1.6MB)